~Why We Are So Special~
Hi! My name is Ruth Anne. I love working with moms and babies! I have been making heirloom quality impressions of babies for the past 6 years. In addition, I have taught ceramic classes to elementary age children for 3 years. My inspiration to work with clay was my wonderful Grandmother Ethel, who created many artistic masterpieces using various creative medium.
The early months and years in a child's life speed by so quickly. Making ceramic hand and foot impressions gives you a remembrance of that special moment in time.
Your baby's hand or foot ceramic impression begins with an individual appointment at the Sweet Pea Prints studio in San Jose, California. You may also host a group party at your home or park. There is a minimum number of impressions required depending on the location.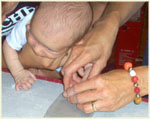 The process of making an impression takes 10-15 minutes. Your baby's little hands and/or feet will be gently pressed into soft clay, leaving an impression. You may choose from many colors and designs. Reverse prints are also available. Each piece is handled with care during the many steps of drying, kiln-firing, glazing, and packaging.
Since there are many steps involved in the final product, please allow approximately 8 weeks. Please plan ahead at least 8 weeks for future gift-giving and holidays.